Industry Intelligence
Being prepared for the holiday rush used to mean stocking shelves and making sure your associates were ready for the long hours. But the digital revolution has changed everything, most importantly, customer expectations. ...
---

This summer Moderne activated street teams across the country for The Onion, read more here! ...
---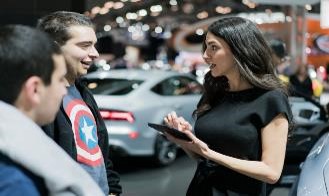 Expo East in Baltimore, MD is right around the corner and it's a lot of work! We know because we have been staffing it for years. Most companies need an extra hand at their booth. So how do you find the right booth talent to represent your brand? ...
---
Understand how consistent, timely, relevant and personalized experiences are enabled by having the right technology foundation in place. ...
---

Check out our favorite experiential marketing campaigns from SDCC 2017 featuring Stranger Things, Blade Runner 2019, The Tick, and Outlander! ...
---
Explore how consolidating multiple systems through a cloud-based commerce platform provides a seamless experience for both you, and your customer. ...
---
Learn the top five innovative ways to utilize your mobile POS technology to drive customer engagement, increase sales and elevate your brand. ...
---
Examine the common challenges holding retailers back and the five customer-focused commerce musts to building a unified customer experience. ...
---
Explore the 3 critical components to delivering the perfect order. ...
---
Check out how we're reaching bearded men in New York, Los Angeles, Seattle, Boston, and Philadelphia to share Brisk, a UK range of beard grooming products. ...
---
220 Results Found